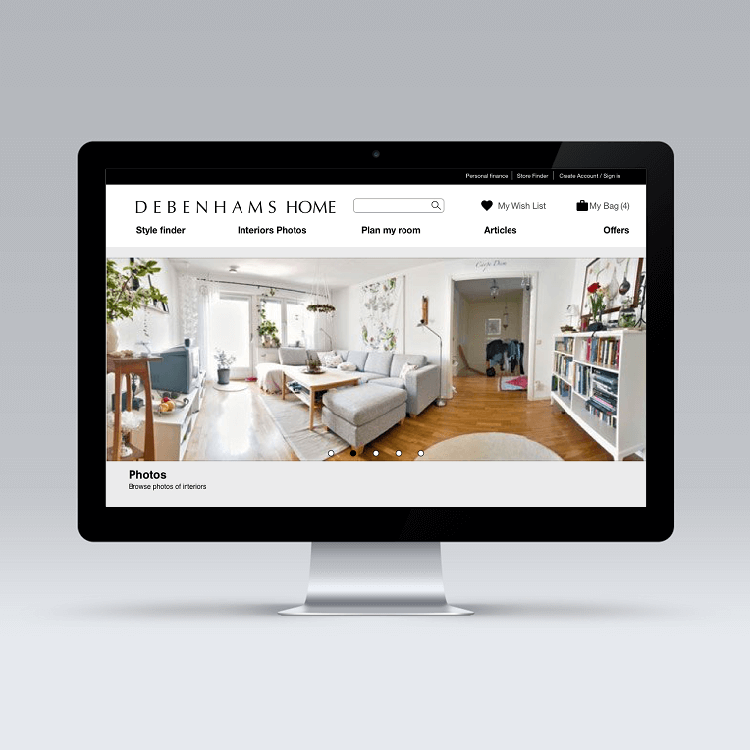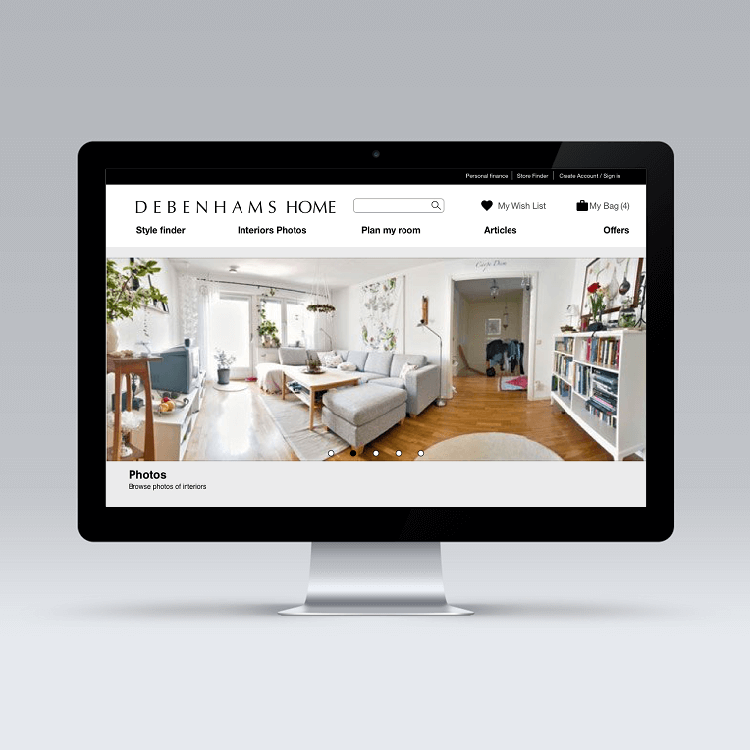 DEBENHAMS HOME
Helping you choose a style for your home
[unex_ce_button id="content_6xzlge4rp" button_text_color="#000000" button_font="semibold" button_font_size="15px" button_width="auto" button_alignment="center" button_text_spacing="2px" button_bg_color="#a0e8af" button_padding="15px 60px 15px 60px" button_border_width="0px" button_border_color="#000000" button_border_radius="0px" button_text_hover_color="#ffffff" button_text_spacing_hover="2px" button_bg_hover_color="#000000" button_border_hover_color="#000000" button_link="https://invis.io/X99HABOYR" button_link_type="url" button_link_target="_blank" has_container="1" in_column=""]TRY THE PROTOTYPE[/ce_button]
Debenhams Home was a conceptual project to create an interactive prototype for a website, carried out over a two-week sprint. Working in a group of four, we applied several UX techniques to create several iterations of a website designed to make it easier for people to find inspiring room design ideas and choose and interior style for their homes.
THE BRIEF
Debenhams has hired you to create a website that will help people plan and purchase the items they need for their decorating projects. The business goal being to attract customers to spend more of their decorating and furnishing budget with Debenhams.
Client | Conceptual Project for General Assembly
Target Device | Desktop
Sprint Duration | 2 Weeks
Team Size | 4
Skills Used | User interviews, Designing for personas, Card sorting, Usability testing, Competitive Analysis, Site Maps, Web Layout, Experience Maps, Journey Mapping, Presentation techniques
Software Used | Sketch, Trello, Marvel, Adobe Photoshop, Keynote, Omnigraffle
THE PROBLEM
A recent market research study regarding home furnishing and decorating concluded that :
People found it difficult and overly time consuming to decorate their homes in a way that replicates styles they had seen elsewhere.

People felt that they needed more advice about how to furnish or decorate within a budget.
SOLUTION
A website with inspiration ideas and a style finder feature to help people clarify their interior design likes and dislikes. Based on their personal preferences the website will suggest a limited range of interior styles to the user, to prevent them being overwhelmed with choice. The website will also have a clear and easy way to search for products.
PERSONAS
A part of the brief we were given three personas; Michael, Midori and Marcia. We decided to focus on Marcia as she was the one most likely to use the site and the one likely to spend the most. She has an interest in home interiors and decorates frequently but is often overwhelmed by choice so she would benefit from a feature to help her choose a decorating style.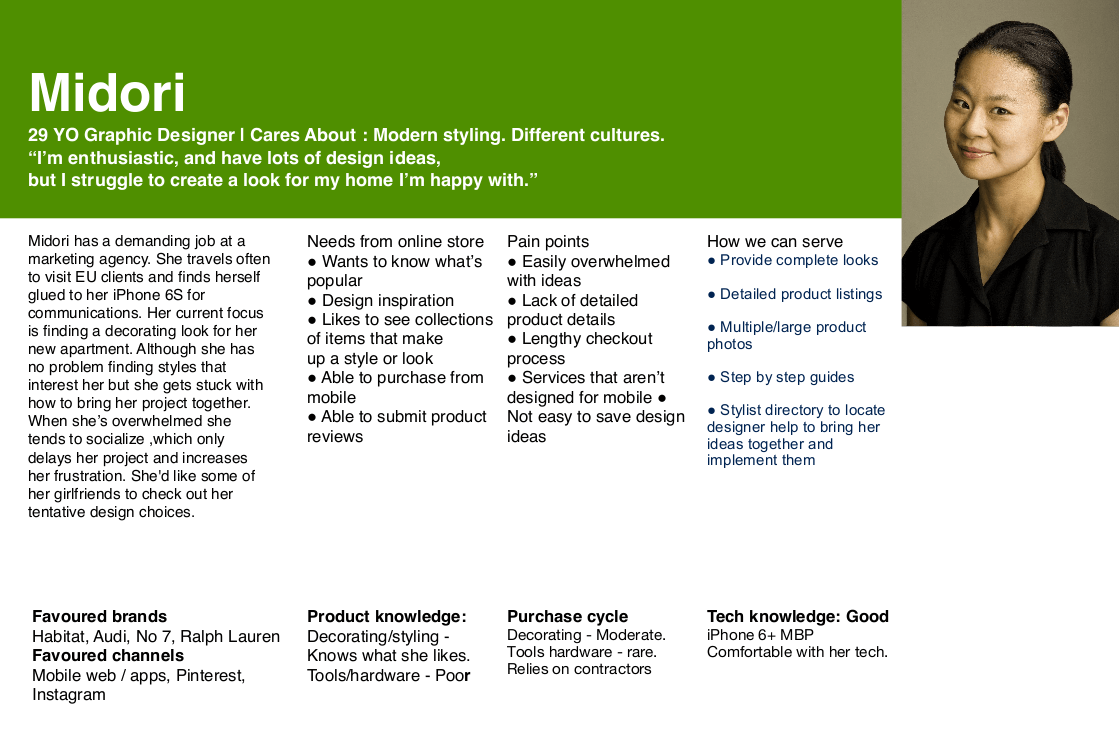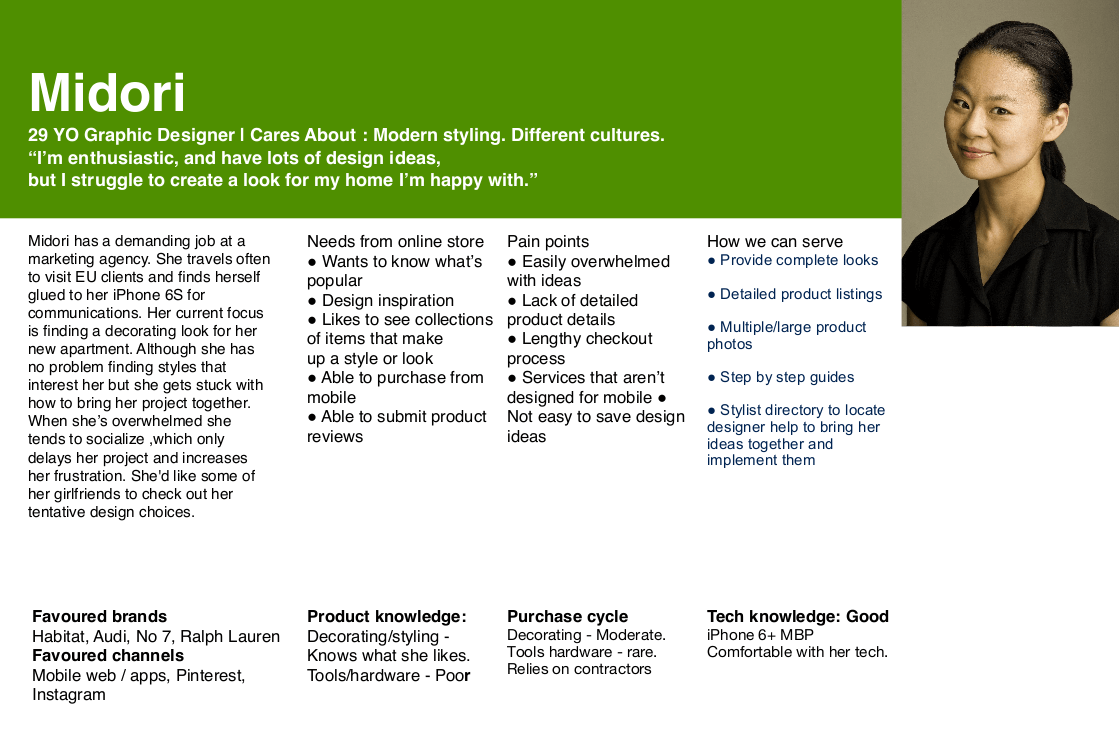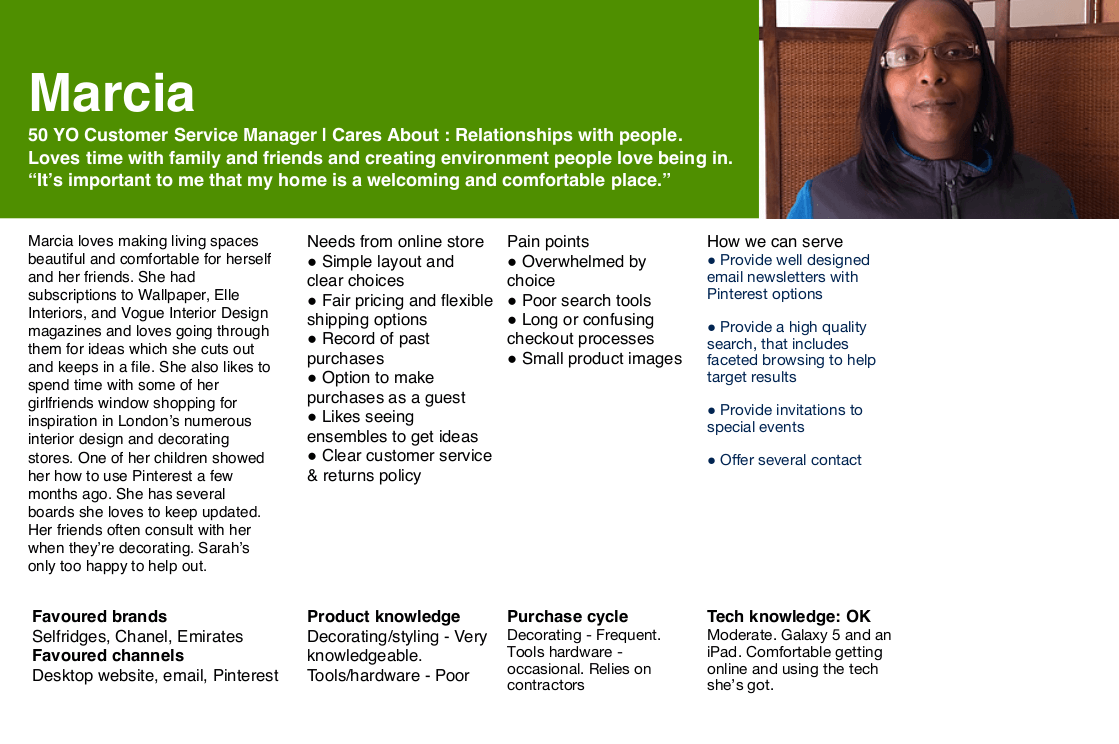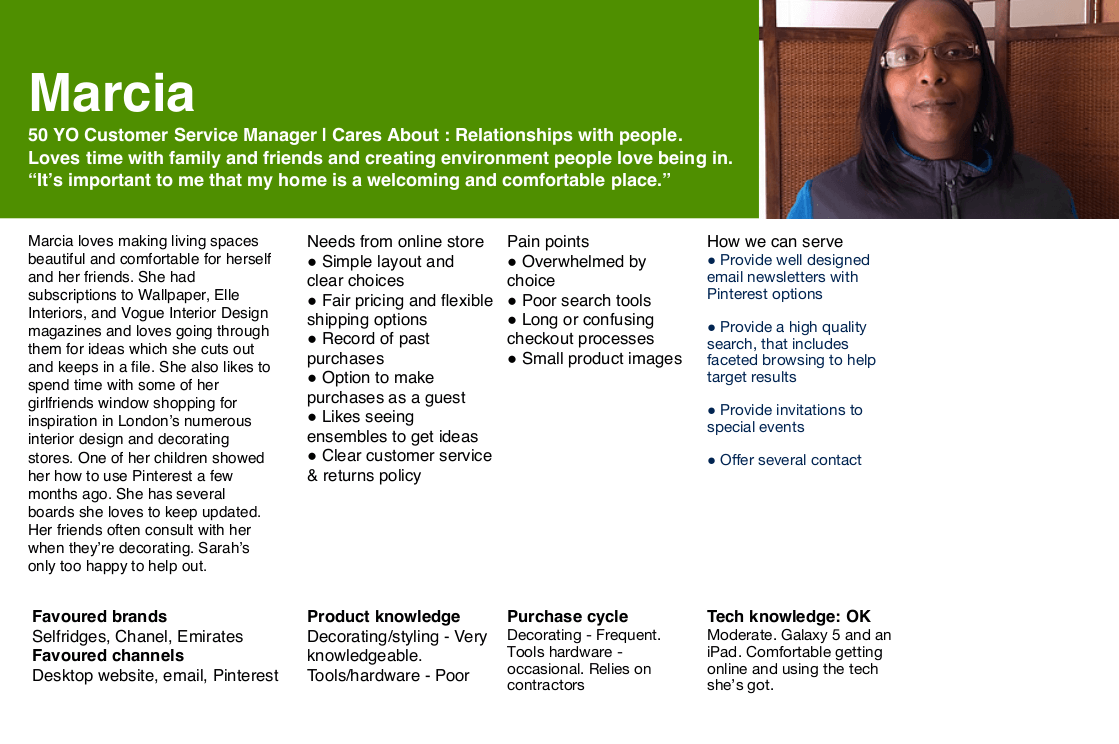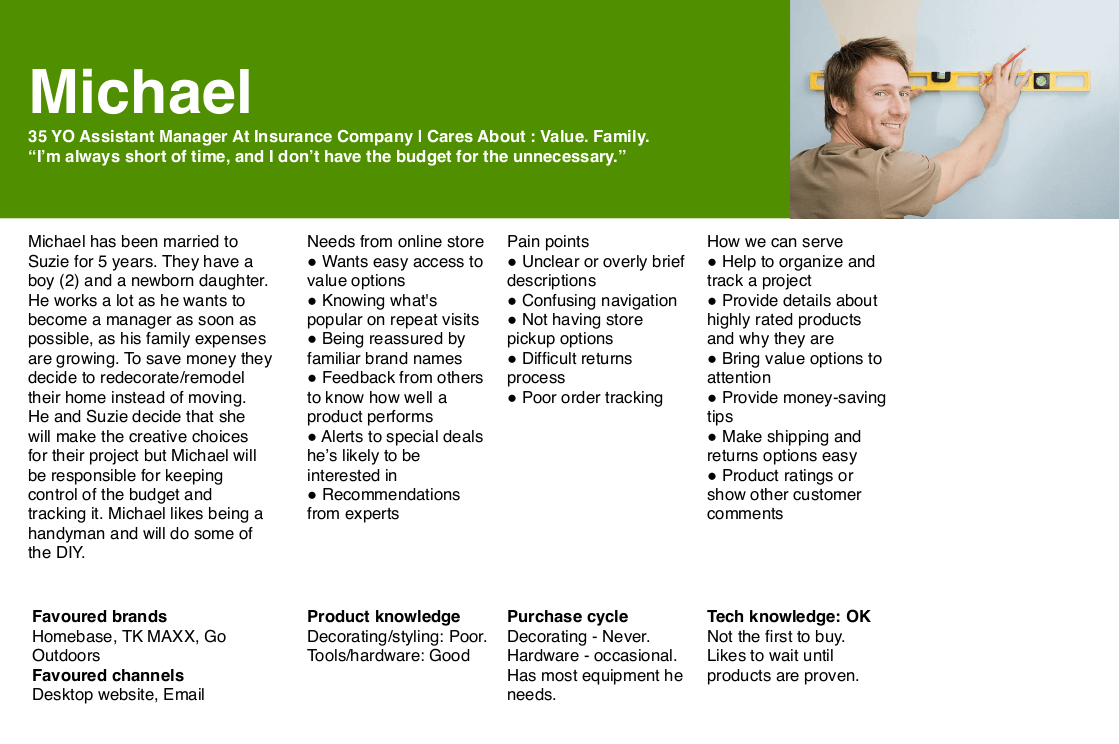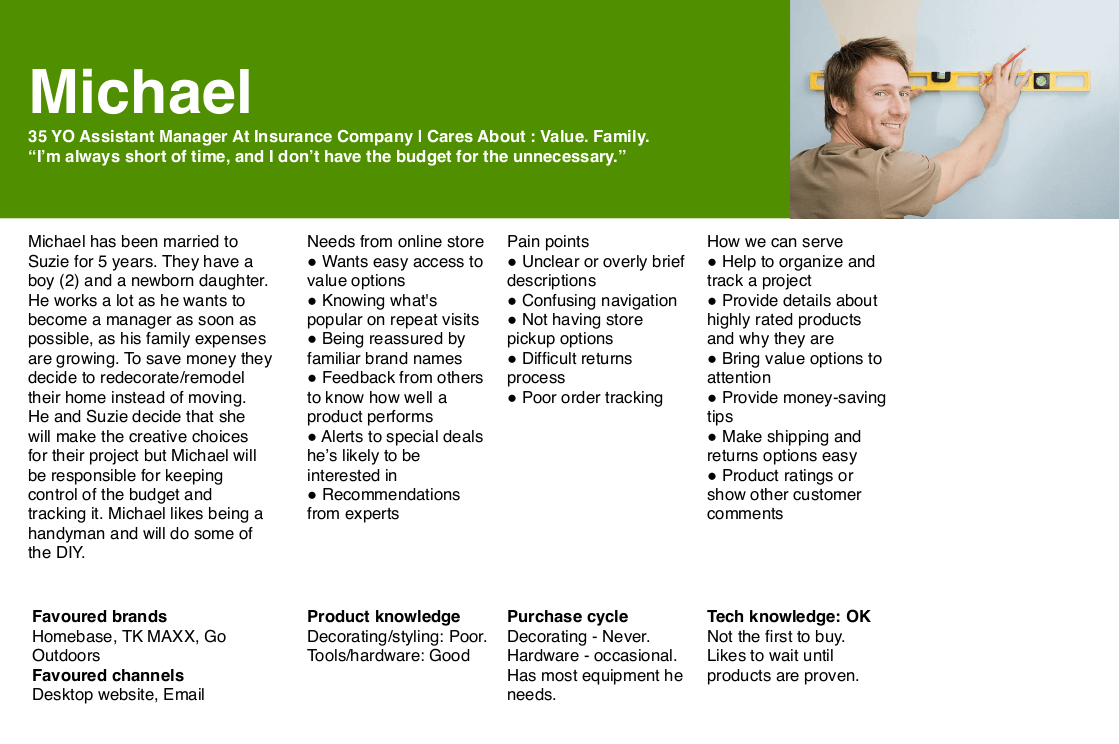 INTERVIEWS
Our group carried out over twenty interviews with people who have recently decorated their homes or are in the process of doing so. Many of the interviewees wanted a clearer picture of how an item would look in their own home when searching for furniture online i.e. a planning feature where they could input the dimensions of a room and then see how various items of furniture fit within it. The interviewees also wanted to share photos of furniture with their friends and families to get their opinions and advice.
We concluded from our interviews that many people either don't know where to start when trying to find a decorating style or have too many ideas and are overwhelmed with choice. Trying to replicate designs from images is also tricky as what looks nice in a photo might not work in another space i.e. a user's home.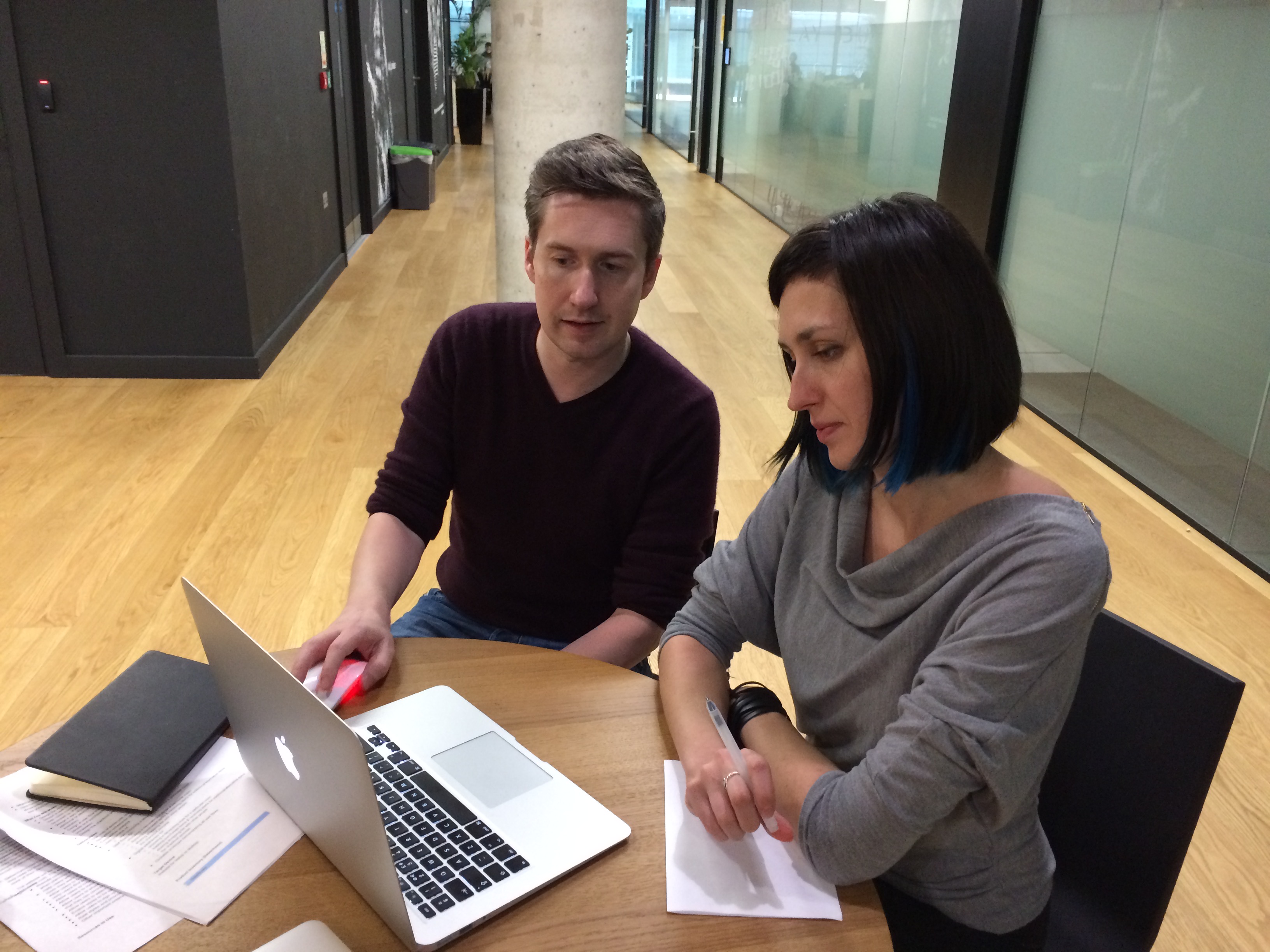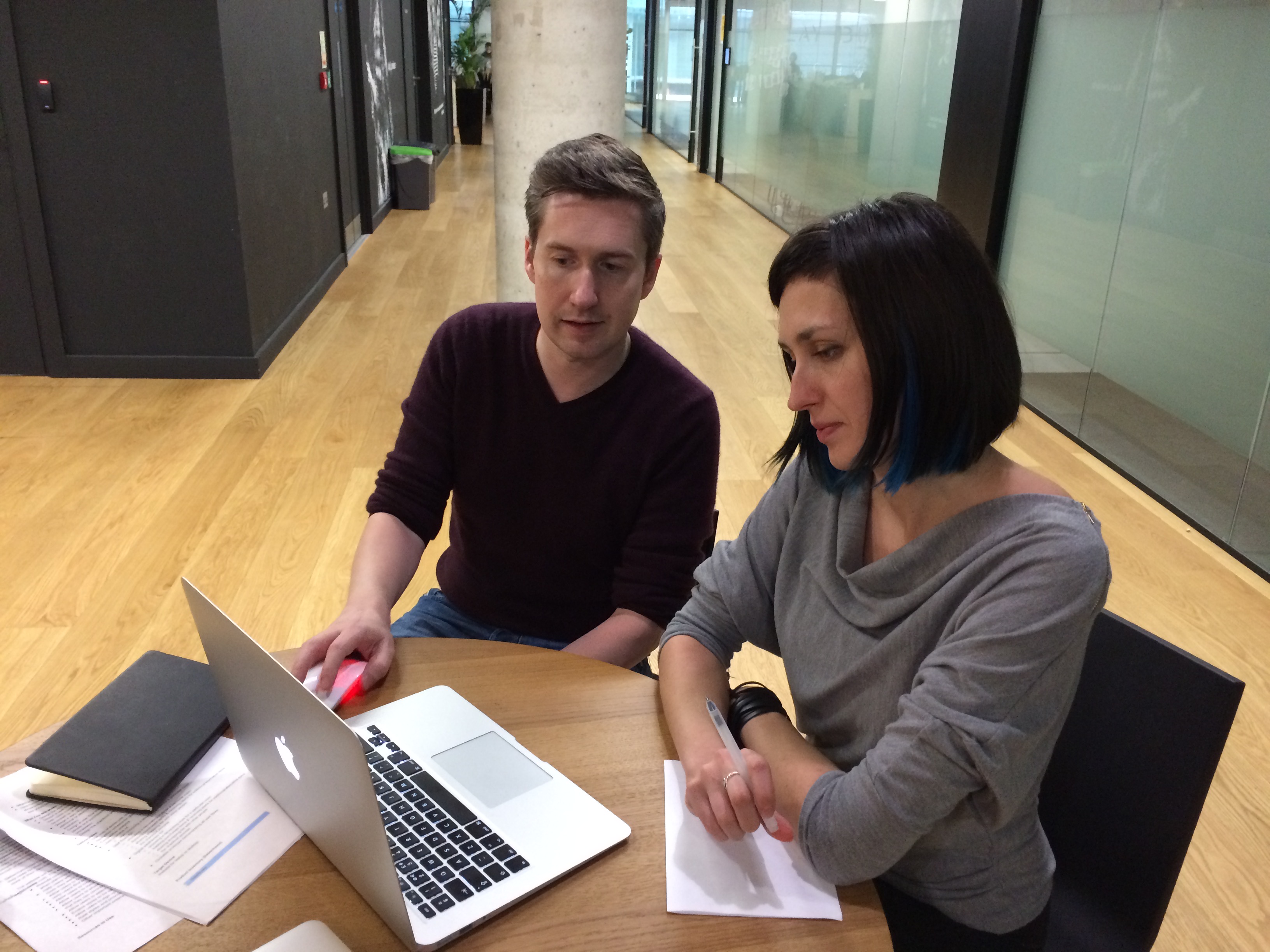 "I have difficulty searching for what I want online in terms of terminology, description and style etc."
Anthony Wood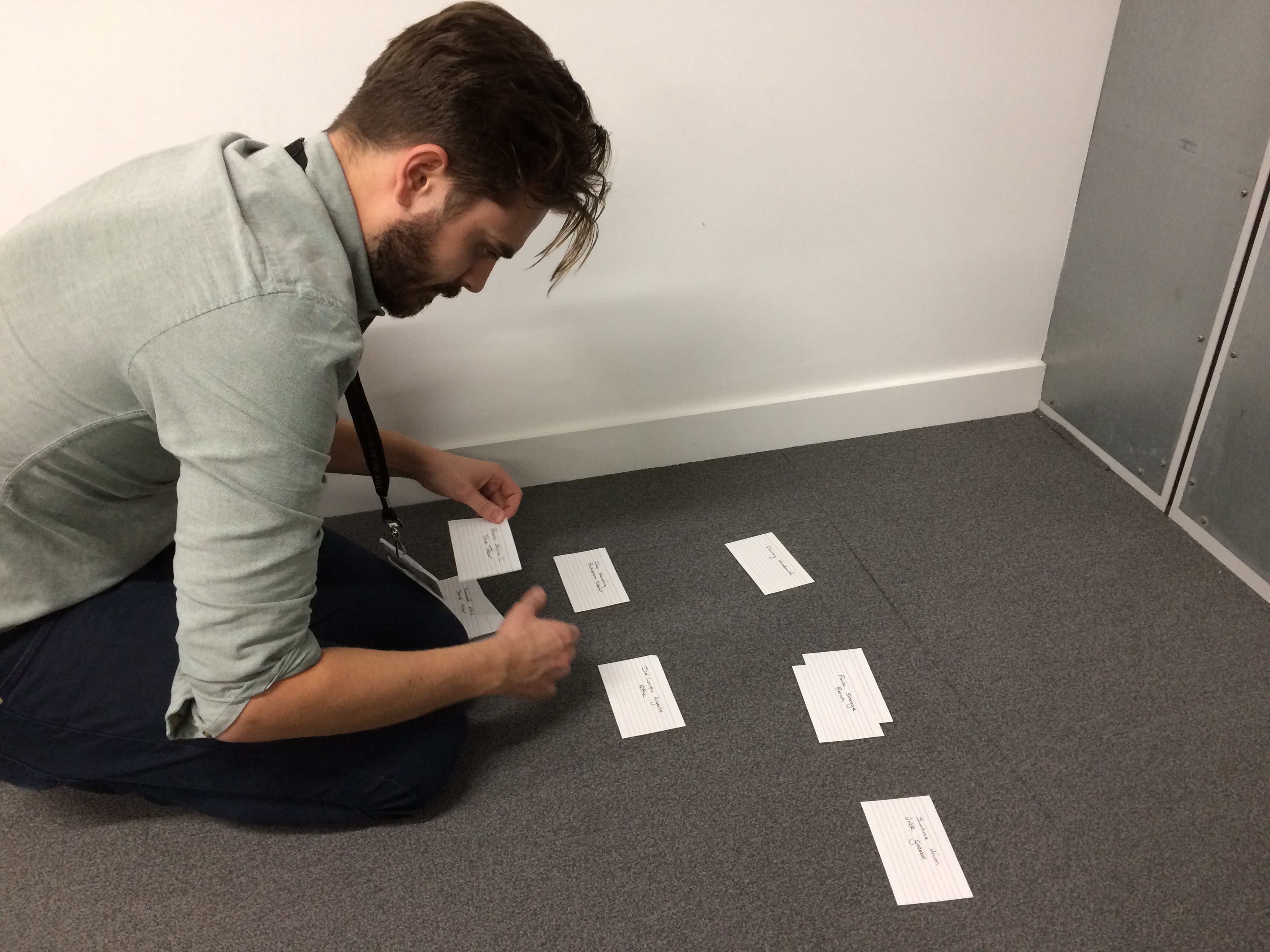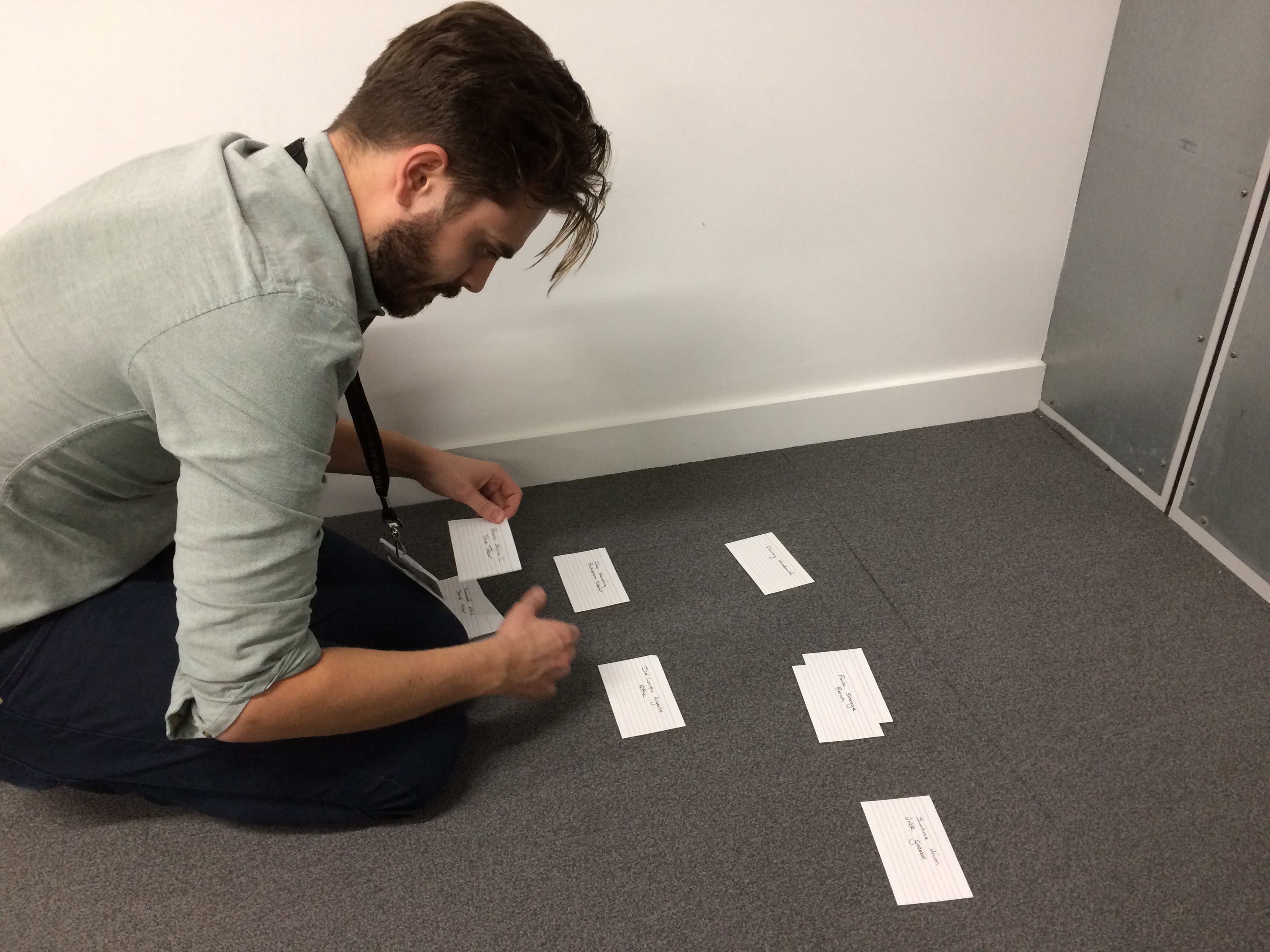 CARD SORTING
As part of our interviews we carried out a card sorting exercise based on 100 items that can be found on the Home section of Debenhams website. This helped us to understand how people approach a decorating project and how they plan their purchases. Everyone we tested sorted the items by room type. They told us they look for the larger items in a room first and then make additional smaller purchases around that main item.
COMPETITIVE ANALYSIS
Analysis of Debenhams competitors highlighted that although many other websites have inspirational photos and articles etc, there is a lack of personalised design advice feature to help people decide on a style for a room. There is an opportunity for Debenhams to gain a larger share of the home interiors market by helping customers to create a whole "look" for their homes. User research and interviews confirmed this need and led us to conclude that the website would need to have the following features :
1) A Style Finder feature to help people pick an interior design style for their home.
2) Very clear navigation and search functions.
3) A way for users to share their ideas and photos of products with friends and family.
TASK ANALYSIS
The research and interviews gave us plenty of information to carry out a task analysis. We worked out the steps needed to be taken by Marcia when looking for a decorating style and considered what the various pain points were along the way. From this, we drew up an experience map to illustrate the areas where the user experience could be improved upon. We also illustrated a user flow of how the Debenhams Home website could help Marcia choose an interior style for her home.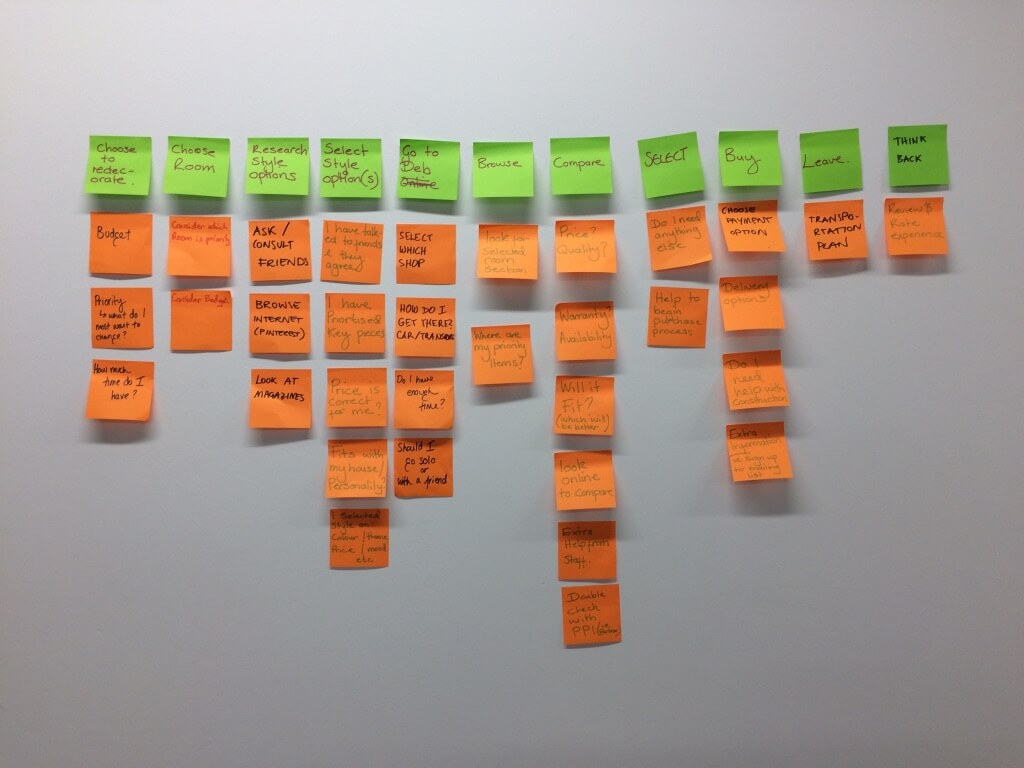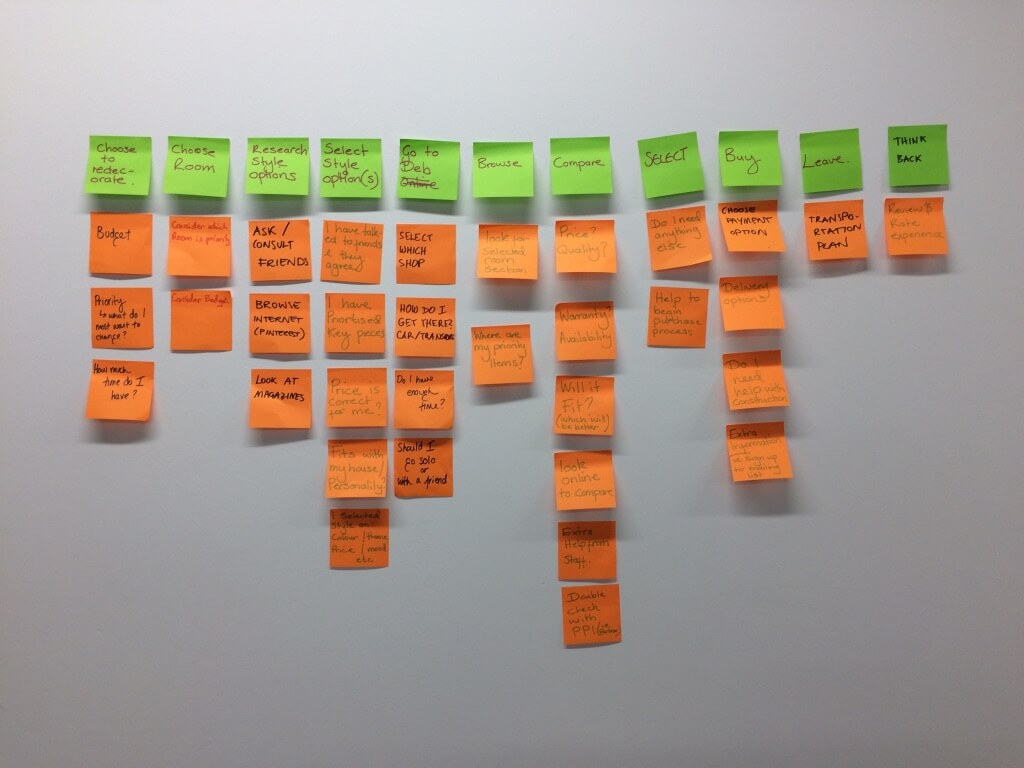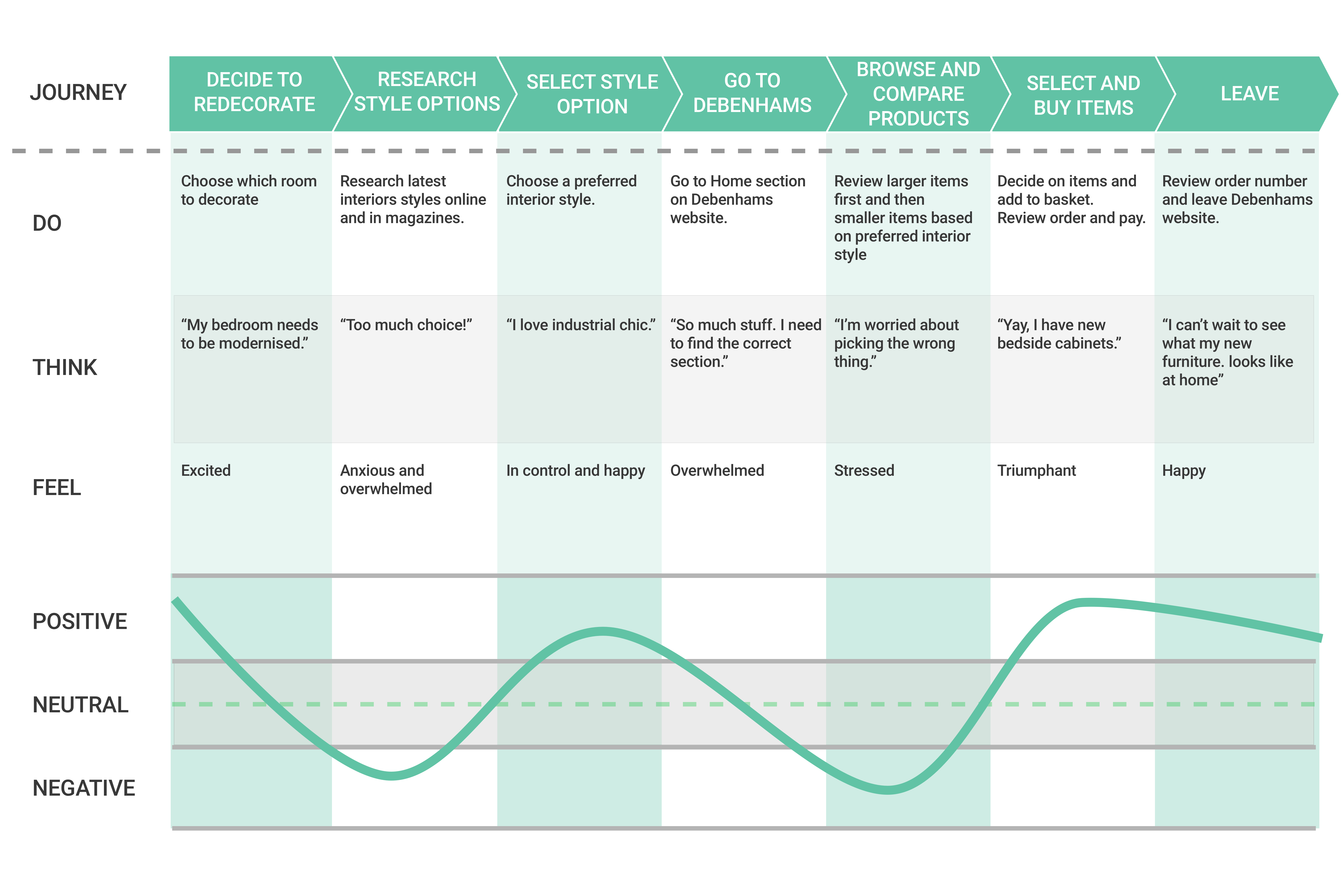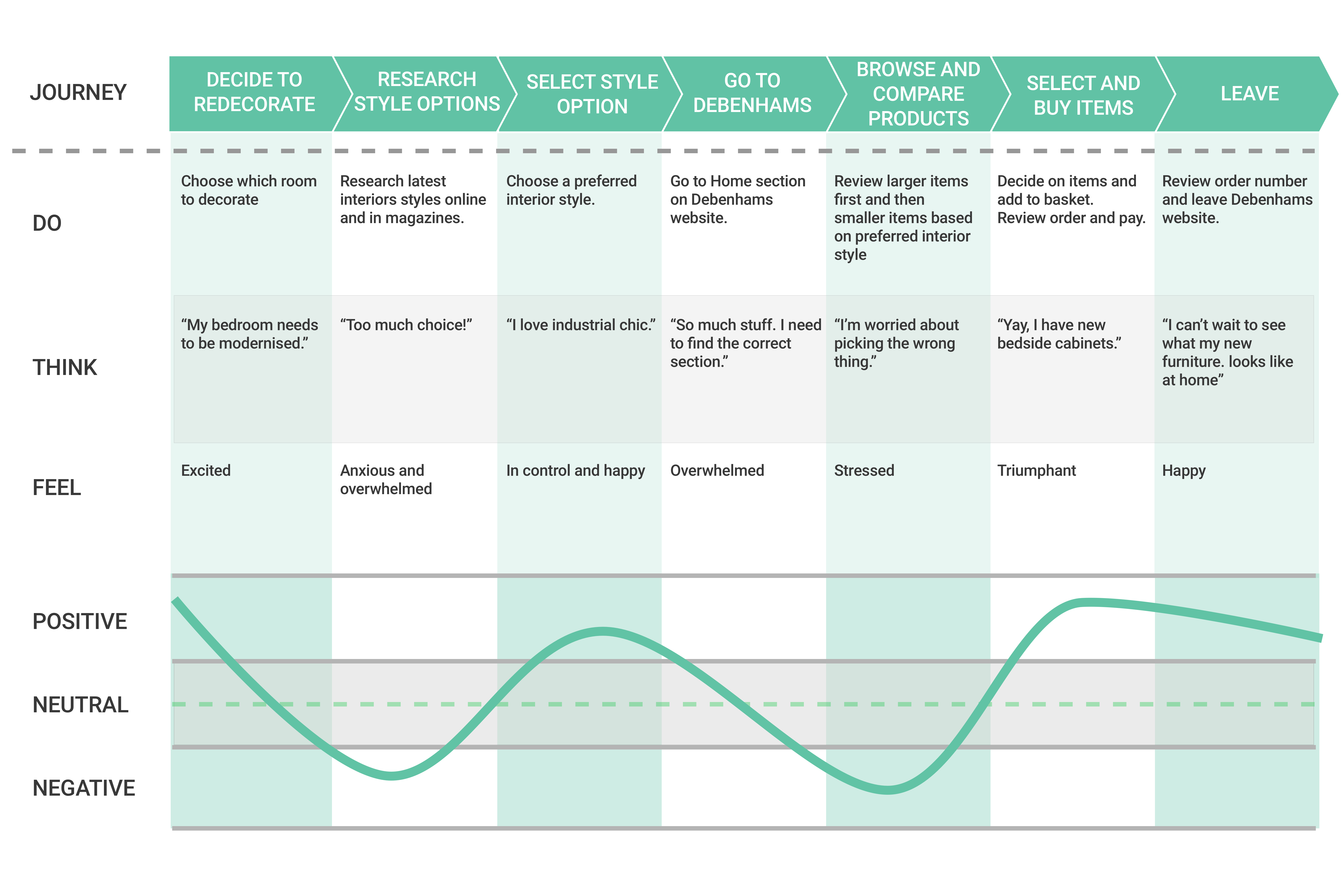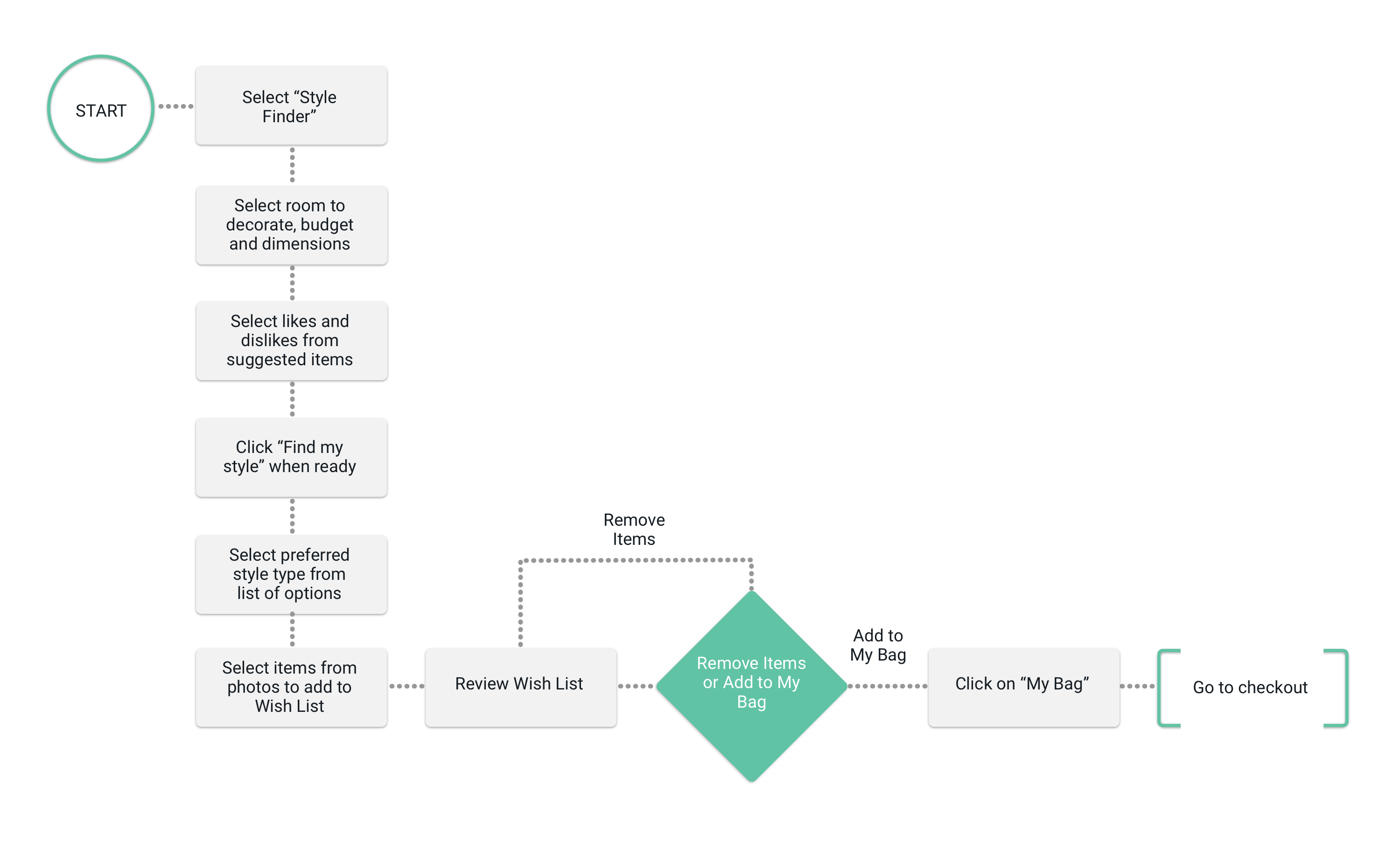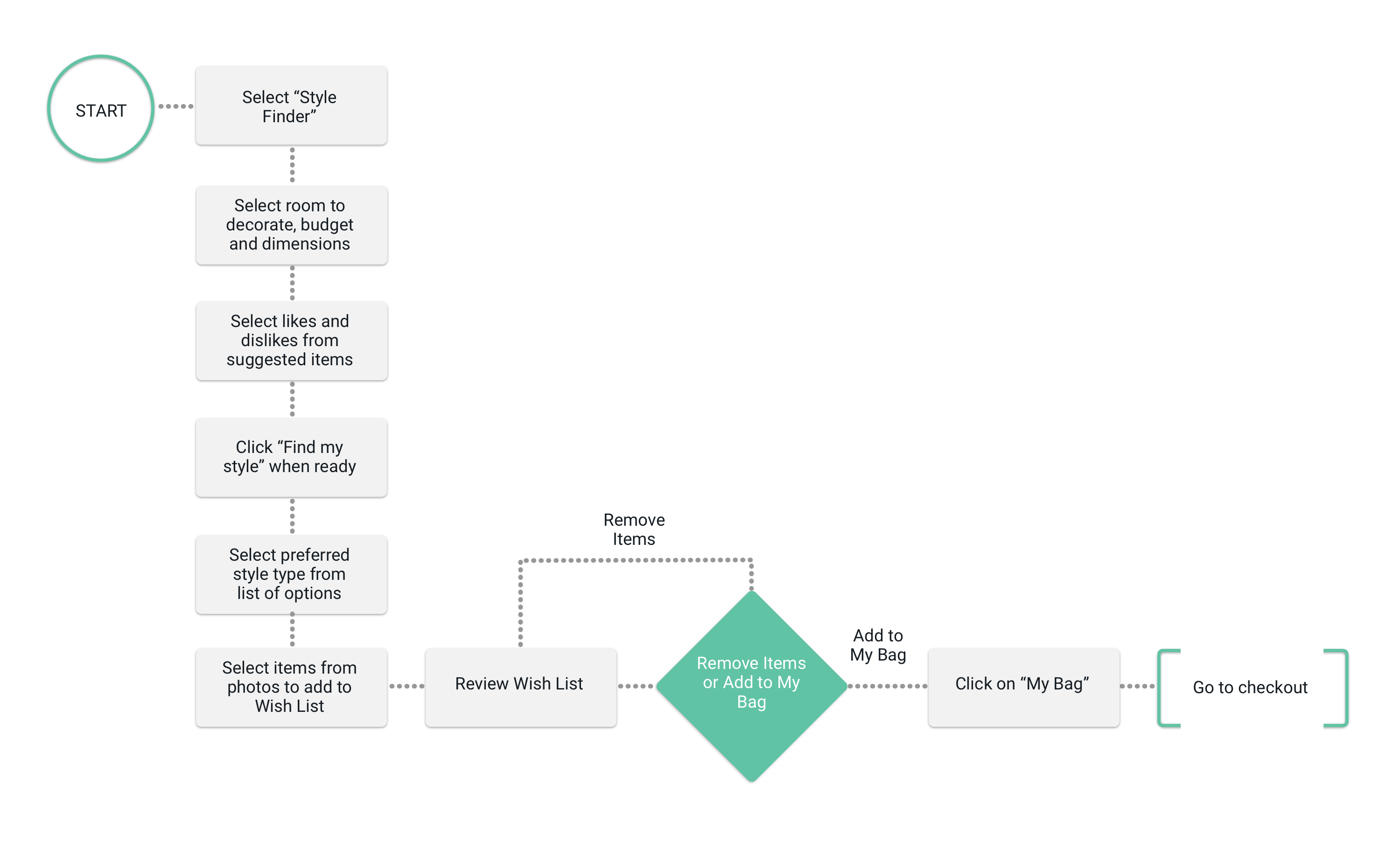 INITIAL DESIGN ITERATIONS
Various iterations were made of the initial designs based on user feedback from our interviewees and several other testers. The main changes made were :
1) Navigation around the site needed to be improved ; testers initially found it difficult to follow the steps to find an interior style.


2) The home page was refined to better reflect the function of the site as a tool to help users choose an interior style.


3) Costs were more heavily featured at every stage of the browsing and buying process.


4) Quantities were added to allow people to buy more than a particular item of furniture at one time.


OUTCOME
A clickable prototype in Invision which allows users to find a style for their home, share their ideas with friends and buy the items they need for their decorating project. Please click on "TRY THE PROTOTYPE" at the bottom of this page to see the full version.


NEXT STEPS
Mobile App
Build up the "Plan my room" feature ; Many people I interviewed wanted a clearer picture of how a piece of furniture would look in their own home. This feature would allow them to input their room dimensions and see how a scaled version of furniture would fit in their home.
Add a feature to suggest similar items at various prices to suit different budgets.
[unex_ce_button id="content_d0s037poo" button_text_color="#000000" button_font="semibold" button_font_size="15px" button_width="auto" button_alignment="center" button_text_spacing="2px" button_bg_color="#a0e8af" button_padding="15px 60px 15px 60px" button_border_width="0px" button_border_color="#000000" button_border_radius="0px" button_text_hover_color="#ffffff" button_text_spacing_hover="2px" button_bg_hover_color="#000000" button_border_hover_color="#000000" button_link="https://invis.io/X99HABOYR" button_link_type="url" button_link_target="_blank" has_container="1" in_column=""]TRY THE PROTOTYPE[/ce_button]